False.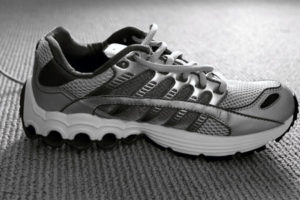 We often hear that wearing certain types of running shoes to accommodate certain foot structures will reduce injuries. I fully bought into this idea about 12 years ago when I started training for my first marathon.
I visited a shoe store, and after a quick evaluation by the salesperson, I was told that I appeared to be an over-pronator, meaning that my foot rolled inward as I ran. To counteract it, the seller said, I should buy a motion-control shoe. Keep in mind that prior to visiting this store, I had never had a foot assessment or running evaluation, and I had never spent more than $50 on a pair of running shoes.
The salesperson fully convinced me that I needed to spend $130 for a   pair of specialized running shoes based on my foot type, so my wife and I sacrificed groceries for a week and a half and bought the shoes. After five or six weeks of nothing but trouble running in the shoes, I retired them and went back to my $50 shoes, kept training and successfully completed the marathon.
Running shoes are big business in the United States, and the sale of running shoes is increasing. In 1988 there were roughly 25 million pairs of run- ning shoes sold, a number that increased to approximately 40 million pairs in 2009. I find it interesting that even though sales of specialized running shoes continues to increase, we still have about the same number of running injuries we've always had.
It can be a bit complicated trying to figure out what type of shoe is right for you. Running shoes are usually categorized as either being stability, motion-controlled or cushioned shoes. Foot variations can complicate things as well. Maybe you've been told you have high arches or you're flat-footed, an over-pronator or supinator, or that you have rearfoot varus or forefoot valgus. Yikes!
My searching reveals that there hasn't been a tremendous amount of research examining whether certain types of shoes can help reduce injury rates in people with certain foot types. One of the published studies on this topic was conducted by Knapik and colleagues (2010) and appeared in The American Journal of Sports Medicine.
The authors performed foot evaluations on 722 Marine Corps recruits and issued them stability, motion-control or cushioned shoes based upon their foot type. Then authors measured injury rates over a 12-week train- ing period. Ultimately, the authors concluded, "This prospective study demonstrated that assigning running shoes based on the static weight-bearing plantar foot surface shape had little influence on injury risk during Marine Corps basic training, even after controlling for other injury risk factors. These findings are strengthened by the similar results in Air Force and Army basic-training studies."
I'm certainly not a shoe expert, but when I buy shoes I consider the width of my foot (tight shoes hurt my feet), the weight of a shoe (I usually go for lighter shoes), and the most important factor: overall comfort. Taking five or six laps around the store in the new shoes is a good test to be sure they're comfortable.
Knapik, J., Trone, D., Swedler, D., Vilasenor, A., Bullock, S., Schmied, E., Bockelman, T., Han, P., and Jones, B. Injury reduction effectiveness of assigning running shoes based on plantar shape in Marine Corps Basic Training. The American Journal of Sports Medicine.