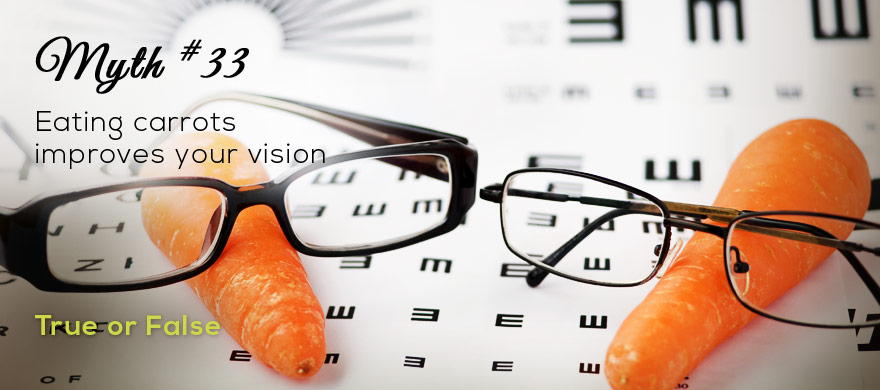 False.
Proposed links between certain foods and improved eyesight have been discussed for hundreds and maybe even thousands of years. When the focus is improving eyesight, carrots usually dominate the conversation. Many mothers and fathers have told their children to eat their carrots because it would improve their eyesight, especially in the dark. Truth be told, there is little to no evidence supporting the idea that eating carrots leads to better vision. Supposedly this myth originated during WWII when Britain's Air Ministry pilots started shooting down more Nazi bombers at night. The pilots were relying on a new technology in their war efforts, Airborne Interception Radar, but the Air Ministry didn't want the Nazi's to know that. To keep their secret safe, they purposely spread a rumor that their pilots' improved vision was due to eating tremendous amounts of carrots.

Carrots are high in vitamin A, which is important for good eye health; however, vitamin A deficiency is relatively rare in industrialized nations. Authors of one study (Smith et al., 1999) asked people about carrot consumption and seeing in the dark. Surprisingly, they found that women in their study who said they ate more carrots reported higher rates of poor night vision. It's not likely that eating carrots negatively impacted vision in these women, but as the authors state "it is probable that people attributing poor driving ability to their vision may be eating more carrots in the hope of reversing this decline". My wife and I have both had Lasik eye surgery so we wouldn't need to wear contacts or glasses. If we thought we could have improved our vision by eating carrots that would have been the first thing we would have tried!

Reference:
Smith W, Mitchell P, Lazarus R: Carrots, carotene and seeing in the dark. Australian and New Zealand Journal of Opthalmology (1999), Vol 27, pps. 200-203.