False.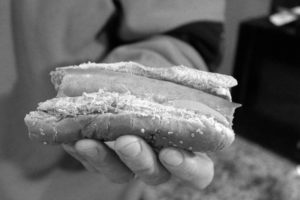 If you do a quick Internet search on this topic, it won't take long to find recommendations to go for a walk after eating a meal. The rationale? The movement associated with walking will speed digestion and maybe even result in absorbing fewer calories.
One interesting statement I found on a website that advocates walking after eating suggests, "Getting a jump on digestion [by walking after a meal] will help continue that process through the night, burning more calories and shedding pounds faster." This simply isn't true.
Walking is a highly recommended form of physical activity because of its many health benefits. Walking can help us control our weight, increase our energy levels and good cholesterol, and decrease our risk for hypertension, cardiovascular disease, diabetes and stroke.
Walking has also been shown to help reduce our reliance on medications and improve our sex life. Walking is good! However, walking after eating a meal doesn't speed up digestion, nor does it reduce the absorption of calories. This is a topic about which there appears to be a fair amount of disagreement in published literature. As stated by the author of one of the articles I reviewed, the impact of exercise on the time it takes food to pass through the gastrointestinal tract "is a matter of hard debate."
Some research suggests that light aerobic exercise prolongs mouth-to-cecum (first part of the large intestine) transit time; some studies suggest that gastric emptying (time it takes for food to leave the stomach) doesn't change with exercise; and some research suggests that transit time is accelerated with activity. The components and quantity of the meal and the type and intensity of the activity certainly could be factors as well.
Robertson and colleagues (1993) published a study in the Journal of Clinical Gastroenterology that examined the effects of exercise on total and segmental colon transit. Their results showed that with exercise, total gastrointestinal transit time decreased in five subjects, increased in six subjects, and did not change in five subjects. They concluded, "These observations support our previous findings that physical activity to the extent that average people consider routine exercise does not necessarily improve gastrointestinal transit."
There isn't anything wrong with walking after eating; my wife and I often walk after dinner, and that certainly is healthier than sitting and watching television, which many people do after the evening meal. However, we don't walk in the evenings because we think it will help digest our food or result in fewer calories being absorbed; we simply walk because we enjoy it!
Some people can experience gastrointestinal distress if they walk right after eating, so you may want to wait 20 or 30 minutes before sliding into your walking shoes and hitting the streets or the nearest walking trail.
Robertson, G., Meshkinpour, H., Vandenberg, K., James, K., Cohen, A., and Wilson, E. Effects of exercise on total and segmental colon transit. Journal of Clinical Gastroenterology    (1993), Vol 16, pp. 300-303.