False.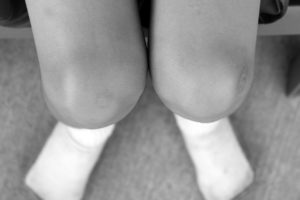 We established in chapter 15 that gelatin is made by boiling the bones, skins and hides of cows and pigs. When I sent that chapter to my editor, she said it reminded her of a tape she listened to years ago that described how eating cartilage from chicken bones was helpful in preventing arthritis.
She also said she consumes two envelopes of unflavored gelatin every morning to help stave off arthritis. Let's explore if that is really effective.
Whether you talk to highly competitive athletes or to individuals in their 60s, 70s or 80s, joint pain is a common complaint. I spoke to a group of retired educators shortly before I wrote this chapter, and following the presentation, I had a long discussion with a woman who said she doesn't exercise at all because of pain in her knees.
As someone who has been working in the areas of health and fitness for the past 20 years or so, I can confidently say that I've heard this complaint hundreds of times.
When the cartilage that  covers  our  bones  (called  hyaline  or  articular cartilage) incurs damage, we experience inflammation, pain and decreased range of  motion. Because this  affects millions upon millions of people, it makes sense that we might look for simple and inexpensive remedies such as taking  gelatin.
From the reading I've done, it appears that gelatin is good for strengthening hair and fingernails and for protecting our joints. This might be a legitimate claim, because gelatin contains the amino acids proline and glycine, which are thought to be particularly important for healthy cartilage.
As I began conducting research for this chapter, it became obvious that there is very little published research on the topic. I did find a report of a study conducted at Ball State University indicating that a gelatin supplement improved joint pain in athletes. Unfortunately, the study was never published in a peer-reviewed scientific journal, nor were the details or specifics of the study released.
Plus this particular study was funded by the company that created the supplement, raising even more questions about its validity.
In an online WebMD article, Timothy McAlindon, M.D., MPH, was quoted as saying, "If gelatin was protective [for stiff knees] there'd be less osteoarthritis in this country and not more, because it's widely contained in foods."
There is some evidence that pharmaceutical-grade collagen hydrolysate (hydrolyzed gelatin products) may be beneficial in the treatment of osteoar- thritis and osteoporosis. In a review article on the topic, Moskowitch (2000) stated, "Collagen hydrolysate is of interest as a therapeutic agent of potential utility in the treatment of osteoarthritis and osteoporosis."
"Is of interest" certainly doesn't equal good scientific evidence, in my opinion. In addition, the studies conducted with gelatin supplements and pharmaceutical gelatin are using different and more-concentrated forms of gelatin then you would find in, for example, commercial Jell-O.
I will continue to enjoy Jell-O on occasion; however, I don't believe it will improve the health of my knees, which have been subjected to a number years of self-inflicted abuse from wrestling, track and football.
Reference: Moskowitch, R. Role of Collagen Hydrolysate in Bone and Joint Disease. Seminars in Arthritis and Rheumatism (2000), Vol 30, pp. 87-99.