False.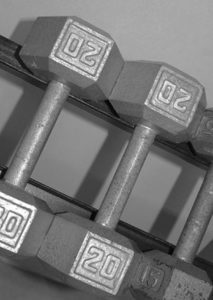 I'VE BEEN TEACHING and working in the area of fitness and wellness for nearly 20 years. One of the most frequent questions I am asked is, "Should I do my cardio workout before or after I lift weights?"
Current exercise guidelines/recommendations encourage us to engage in both cardiovascular exercise and resistance training, so it is not surprising that this question arises so frequently. My response has changed little over the past 20 years and usually begins with, "It depends …"
I believe the order in which you perform your exercises should depend on your goals. For example, if your goal is to improve cardiorespiratory fitness, you are likely better off starting with your cardio workout. If your goal is to get stronger or increase the size of your muscles, then lifting should probably come first. If your goal is simply to be active and improve your overall health, it probably doesn't matter if you hit the weights or the track first. I personally like to mix up the order of my workouts, which helps me overcome the boredom factor.
When we exercise, our muscles use stored energy called glycogen. If we do cardio exercises first, we will have less energy available for our lifting routine, and vice versa. Plus it is harder to get in a great cardio or weight-training session if we are already tired or fatigued. Imagine trying to do heavy squats after a five-mile run or running five miles after doing heavy squats. I cringe just thinking about it!
For most of us, the order really doesn't matter. The truth is that the majority of people don't meet even the minimal recommendations with regard to how often they should be lifting weights or doing aerobic exercise. I see people too often get stressed about questions such as: What is the best order for my exercises? Which machine will give me the best workout? Exactly how many sets and repetitions should I be doing? Find a routine you enjoy and will stick with.
A fair amount of research has been conducted on the topic of concur- rent training. Leveritt et al. (1999) published a review article in the journal Sports Medicine in which they examined 86 previously published articles on the topic. The authors concluded that research investigating the neuromuscular adaptations and performance improvements associated with concurrent strength and endurance training has produced inconsistent results. Some studies in which cardio exercises were performed before weights limited improvements in strength and power development in research participants. However, results from other studies have not shown  this limitation. If you are a high-level athlete trying to improve your overall fitness or performance level, you might consider doing aerobic exercises and weight training sessions on separate days. On the other hand, if you are like me and are exercising for general health, don't stress over the order of your exercises. I'm a big fan of the KISS principle—Keep It Simple, Stupid—especially when it comes to our workout routines. To  me, consistency is what's vital, not which type of exercise you perform first.
Leveritt, M., Abernethy, P., Barry, B., and Logan, P. Concurrent strength and endurance training: A review. Sports Medicine (1999), Vol 28, pp. 413-427.