True.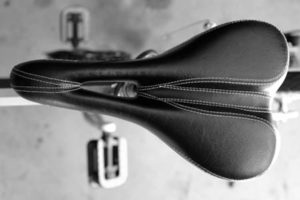 MY WIFE AND I are what I consider moderate recreational cyclists. Years ago when we were first married—and a bit more adventurous—we did a fair amount of mountain biking in the hills of upstate New York and the beautiful western slopes of Colorado.
Now we enjoy hitting the bike trail near our house once or twice a week and going on round-trip rides that usually range from 15–20 miles. Although we are not cycling fanatics, I have to admit that I had a slight panic attack when I first started researching this topic, wondering if our cycling outings were putting me at risk for erectile dysfunction, commonly referred to as ED. Most fitness and wellness experts confirm that riding a bike is great exercise. Bike riding can help us burn calories and maintain our optimal weight, help maintain or improve our cardiorespiratory fitness level, and help tone and firm muscles in our lower body and midsection.
Riding a bike can also have a positive impact on the environment (decreased emissions from vehicles, for example) and on your wallet (less money spent on gas and parking). Some people even choose to not own a car, making their bicycle their sole means of transportation. I say great for them!
Although cycling is a wonderful form of exercise that is generally considered safe, there are risks associated with cycling just as there are with most forms of physically activity. Riders sometimes incur non-traumatic injuries to the knee, neck, shoulder, wrist, hand and back. Current research also sug gests that cycling might put some male riders at risk for ED.
Simply defined, ED is the inability to achieve or maintain an erection during sexual activity. So what is it about cycling that could lead to ED? Cycling might lead to a reduction in blood and nerve supply in the perineal region (area between the scrotum and anus), resulting in reduced blood flow and sensation to the penis. Roughly 5% of cyclists suffer from ED; however, this number could be higher, as some men might be reluctant or embarrassed to talk about the condition.
Sommer and colleagues (2010) published a literature review in the Journal of Sexual Medicine on this topic, where the authors state, "There is a significant relationship between cycling-induced perineal compression leading to vascular, endothelial, and neurogenic dysfunction in men and the development of ED."
So as you spend more time on your bike, your risk of experiencing erectile dysfunction increases. However, the authors also state that they strongly recommend engaging in moderate, safe and reasonable bike  riding.
I could not find a specific recommendation for what is considered a safe number of daily or weekly hours for male bicycle riders. A lot depends on differences in equipment, anatomy, etc.
I would say, however, that if you find your cycling leading to tingling, numbness, or loss of sensation in the perineal region or a change in sexual function, it would be wise to back off a bit.
Meanwhile, you might consider trying padded shorts; standing  every 5–10 minutes while cycling to promote blood flow; keeping your seat level, or even tilting the seat front down just a bit; going to a bike shop and getting properly fitted for your bike; or switching to a recumbent  bike.
As with most things I write and speak about related to health, I think moderation is the key—and so is common sense. I still consider cycling a safe and effective form of physical activity, and I plan on continuing to hit the bike trail with my wife once or twice a week.
Sommer, F., Goldstein, I., and Beate-Korda, J. Bicycle riding and erectile dysfunction: A review. Journal of Sexual Medicine (2010), Vol 7, pp. 2346-2358